Project HaHa
Theatre Performance
2014-2015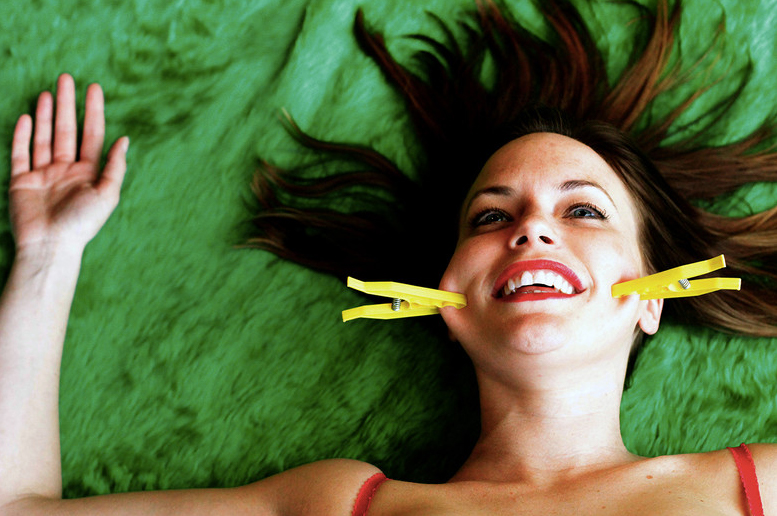 If one were to build
the house of happiness,
the largest space would be
the waiting room
​-Jules Renard-

Project HaHa welcomes you to an upside-down world.
A fertile, green landscape that sews together the silence of possibility and the noise of waiting. This is an ironic and hallucinogenic exploration of the desire to be happy now. So eat your pill, put a flowery dress on and build a house. We will not just sit and study little things. We'll look straight into the sun. Imagine if, for one instance, gravity could disappear…
Using naive and manic physicality and hypnotic images we are gripped in a dance macabre with joy.
​
Now, more than ever, the world and us are hungry for happiness. There is not only the expectation to be happy, but there is also the means by which to measure ourselves against others, The World Happiness Report, The Better Life Index, etc. Advice comes from all angles, from the Pope, the banks, the papers, virtual friends on Facebook but really, who knows how the hell happiness works?
Project HaHa is our opportunity to delve into human-behaviour, rip it apart and re-interpret it.
The aim of the show is to investigate the fine balance between depression and happiness and happiness verses contentment.
Devised by RemoteControl
Performed by Petra Casale and Christine Ryndak

Winner of the Incoming Festival Bursary 2014, London


Press

"...funny, wild, touching and empowering performance."
The Stage – 'MUST SEE!'

"Images of winsome women, wanton women, women losing it, women putting up with it through gritted teeth, women out of control, women abused and abusing – it's all here, presented using a fabulous language of physical, visual and verbal absurdism.They laugh! They cry! They dance! Perhaps they'll peck each other to death, who knows? Hysterically funny in the darkest possible way. Nice and nasty. Visceral, juddering theatre. If you want a comfortable night out, this isn't for you. If you want to be shaken and stirred, amused and disturbed in equal measures, go."
Total Theatre Magazine, Dorothy Max Prior


Supported by

The Art Coucil of England and Incoming Festival
Co-produced by DansarenaNord Norway
Owl Barn Residency
The Point Eastleigh
Full Spin Festival Essen
Cambridge Junction Theatre